FEATURES

· DSP based intelligent control
· Full bridge configuration based on power MOSFETs
· LCD based display for user-friendly display of parameters and status
· Protection against 440V mains input
· Dynamic short circuit protection with fold-back current limiting.
· Protections against all possible errors like battery low, over load, heavy load, short circuit etc.
· Early warning for battery low and overload conditions. System continue normally if the error is corrected.
· Short circuit proof inverter with instantaneous current control
· SMPS type constant current charger with full charge cutoff.
· Ideal for Mixed load application Indigenous design with proven technology.
· Protection against accidental output feedback disconnection.

TECHNICAL SPECIFICATION

Capacity
Input AC Voltage
Input DC Voltage
Output Voltage on Mains
Output on Inv mode
Output wave form on Inv mode
Frequency on Inv mode
Charging current
Charging mode
Charging working range
Protection

----- 800VA,1000VA,1.4KVA,2KVA,3KVA,5KVA, to 20 KVA
----- 120V – 285V
----- 12V,24V,36V,48V to 360V
----- Same as Input
----- 220V +/- 3%
----- Pure Sine Wave
----- 50Hz +/- 0.1Hz
----- Settable upto15 Amp
----- Multistage / constant current
----- 120 V-270V AC Mains input
----- Over load, Over charge, Short circuit and deep discharge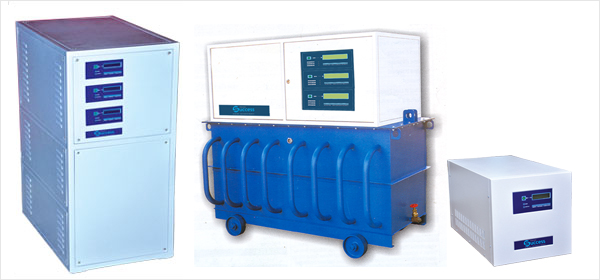 TECHNICAL SPECIFICATION
Input Voltage Range
Output Voltage
Frequency
Output Regulation
Effect of load power factor
Effeciency
Correction Rate

Single Phase

120V-170-270V
230+_1%
50Hz+_3Hz
+_1%
None
Betterthan98%
25V/Sec

Three Phase

225V-295V-450V
400+_1%
50Hz+_3hz
+_1%
None
Better than 98%
25V/Sec ( ph-ne )



Servo Motor
Metering LCD
Status
Lamp Indications
Winding
Duty Cycle
Protection
Cooling




Rugged AC synchronous motor with instant start, Stop charectristics
Micro controller based LCD
Input voltage, Output voltage, Frequency, input High, Input low
Input on, Input low Input high, Output low/High cut-off
Copper
100% Continuous
Fuse protection for motor, Input fuse /MCB, UnderVoltage /Over voltage and short circuit
Natural air/Oil cooled
BATTERY

| | | | | | | |
| --- | --- | --- | --- | --- | --- | --- |
| MOSFET | 48V | -- | 72V | | | |
| IGBT | 120V | -- | 360V | | | |

METERING LCD

Status
Battery level,Input and output volt, Load level, frequency

PROTECTION

Charger Input circuit breaker, Soft start - Soft start with single phase preventer
Battery Battery low cut-off, Current limit
Inverter Output over voltage & load trip
surge protection

ENVIRONMENT

Operating Temperature 0° C to 40° C
Relative humidity 95% (Non condensing)
Acoustic noise <45db
BYPASS OPTION Manual bypass

AUDIO ALARM

Buzzer Battery low and over load

INTERFACE

RS 232 (Optional) For power failure & battery low



APPLICATION

• Solar Inverters.
• Off Grid Line Inverters.
• Solar Street Lights.
• All type of solar panels for electricity storage at office Hospitals, Educational Institutions.

FEATURES

• Designed to withstand frequent and long power cuts.
• Extra thick tubular plates & heat sealed.
• Assembled in quality polypropylene.
• Containers with plate holding cradle.
• Dynamic short circuit protection with fold-back current limiting.
• Special Lead Alloy encompass virgin active materials.
• Auto controlled electrode formation.
• Micro Porous Ceramic vent cum sealed floats plugs to reduce topping up frequency.
• Resistance to corrosion and high ambient temperature.
• Ultra low maintenance & abuse resistant.
• Replacement Guarantee for any manufacture defects.
• Eco friendly and pollution free.

TECHNICAL SPECIFICATION

----- EL 80AH ,EL 100AH,
----- EL 120 AH ,EL150AH ,EL 200AH
----- FT 40AH,FT 60AH, FT 80AH
----- FT 100AH ,FT 120AH




FEATURES

• DSP based inter leaved switching
• Switching device MOSFETS & IGBT
• Positive common in MOSFET base design and Negative Common in IGBT based Design
• Very Low ripple current in input and output due to inter leaved Switching
• Maximum current, constant voltage battery charging method
• When the battery voltage is low, the MPPT will track the panel Impedance and give maximum current to charge the battery
• When the battery voltage reaches near to full charge voltage ,it will reduce the current to keep the battery voltage constant.
• The current will be zero when the voltage is equal to rated full charge voltage
• User can enable or disable intelligent sharing feature at any time by using the switch provided on the system
• All parameter are displaying on the LCD, like solar voltage, battery voltage, charging current, total KWH (kilo watt hour)
• Automatic cooling system inbuilt

PROTECTION

• Panel input high voltage or low voltage than the MPPT rated voltage ,it will be protected
• Battery full charge cutoff




APPLICATION

• Computer Lab.
• Data Centers.
• Stock Market.
• Offices , etc….

FEATURES

• DSP based intelligent control
• Full bridge configuration based on power MOSFETs/IGBT
• LCD based display for user-friendly display of parameters and status
• Protection against 440V mains input
• Dynamic short circuit protection with fold-back current limiting.
• Protections against all possible errors like battery low, over load, heavy load, short circuit etc.
• Early warning for battery low and overload conditions. System continue normally if the error is corrected.
• SMPS type constant current charger with full charge cutoff.
• Ideal for Mixed load application Indigenous design with proven technology.
• Indigenous design with proven technology.
• Protection against accidental output feedback disconnection.

TECHNICAL SPECIFICATION

Capacity
Input AC Voltage
Input DC Voltage
Output Voltage on Mains
Output on Inv mode
Output wave form on Inv mode
Frequency on Inv mode
Charging current
Charging mode
Charging type
Protection

----- 800VA,1000VA,1.4KVA,2KVA,3KVA, to 20 KVA
----- 120V – 285V
----- 12V,24V,36V,48V,72V,96V,120V
----- Same as Input
----- 220V +/- 5%
----- Pure Sine Wave
----- 50Hz +/- 0.1Hz
----- 4Amp to 10Amp
----- Multistage / constant current
----- SMPS
----- Over load, Over charge, Short circuit and deep discharge




APPLICATION

• Solar power stations
• Rural electrification, Small home power systems
• Power supply for traffic, security, gas industry
• 12V and 24V battery charging systems
• Other industrial and commercial applications

TECHNICAL SPECIFICATION

Poly-crystalline Solar Panels

----- Easy to install module with long –term warranty
----- 15%higher output compared to any other thin film module for a given area
----- Minimal losses due to shading and module mismatches.